Pants-Wallis, UK(Thrifted) & Top-Anne Klein (Thrifted); Belt- Thrifted; Heels- Suzy Shier ($5); Necklace- Macy's ($5) & Nail Polish- Stilleto Red by Revlon
That's right folks, I'm being a challenge hoarder again and linking up to Spunky Chateau's
Thursdays are for Thrifters
& The Daybook's
Awkward & Awesome Thursday
(because there was a whole lot of awkward this week!)
Awkward:
*Well for starters my first pose is pretty awkward- my back-up photographer (who just so happens to be my best friend) told me I looked very 70s with the high waisted wide legged trousers so that's how that pose came to be!
*Remember Tuesday's tweet:
I just had to youtube how to open a wine bottle- is that sad or what? Guess I'm so used to the cheap screw tops!
#
ikissbetterthanicook
via web
Yes well even after watching this video (which is awkward enough as it is), I still couldn't figure it out and ending up mutilating the cork (and yes if you are wondering I am university educated- awkward!)
*Monday night's fire alarm in my condo at 1 a.m. and having to go outside in my Spongebob Squarepants pjs (my excuse for the flannel nightwear? My man was in a different province)
*Last night at around 1 a.m. (seems to be my witching hour), being awoken to the most terrifying banging on my door. As I was still home alone I snuck out (again in my Spongebob pjs) with the cordless phone in my hand, ready to dial 911 only to find out that it was my female cat stuck in the litter box. Yes I had (once again) put the cat flap on the wrong way- last time it locked them out so they went to the toilet on the hardwood floor whereas last night they could get in but couldn't get out so she was banging her head against the flap like a mad woman, not wanting to spend the night in her own feces. Oh boy!
*Recording a 16 minute video (yes I'm a rambler) for Colour Blind's Thrifters Anonymous link up only to discover that my head was cropped out and the focus was on my low cut shirt....but not wanting to re-record (hey there was some classic material in there!) I will still be posting it, so stay tuned for that (to be posted Monday!)
This outfit reminds me of the all black ensemble I wore here

, with pops of colour in the accessories.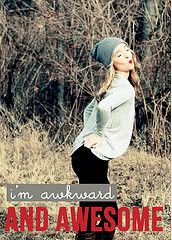 Awesome:
*Receiving a beautiful
Persona
(like a Pandora) bracelet from my man as a 'just because I'm sweet' gift from his work travels to Edmonton (once the bracelet is resized I will showcase it on the blog!)
*Being interviewed for a blogger profile from Jason from
Thread Beat
, a new online fashion magazine in Ottawa.
*Taking a mini vacay this weekend to Montreal to celebrate a good friend's birthday and see the
J
ean Paul Gaulthier exhibit
at The Montreal Museum of Fine Arts (although this is in the future, I just know it will be awesome!)
*Finding the perfect bright colour combination for autumn (outfit to be featured on my blog Sunday).
*Having a culinary orgasmic experience with a good friend (hey get your head out of the gutter!) at a new intimate and eclectic restaurant called
Back Lane Cafe
. Their margherita pizza was divine and the best part is it's within walking distance from my condo!
What were your awkward and awesome moments this week?